Minivans Are Cool
I wish I could say I never thought I'd be the mom who drives a minivan, but that's not entirely true.
Remember that game, MASH? It was a silly game we'd play that was kind of like a miniature, dumbed-down version of the game of Life. If I remember correctly, there was a part where you'd choose what potential cars you wanted to drive in your future along with who you'd like to marry, how many kids you'd have, and whether you'd live in a shack or a mansion. You know, important life decisions.
When it came to the choice of what kind of car I'd like to drive, a minivan was always on my list. But don't tell anybody because minivans aren't known for being super cool.
Fast forward to now. I really don't have a choice in the matter anymore, which of course, makes driving a van a little less cool. Although, me living out the suburban, van driving, housewife role is a tiny bit cool on most days. And it's really cool that I can fit my whole family into a minivan. It's exponentially cool that a minivan makes life easier on us. That trumps everything.
Cool factor is actually no longer really that important anymore. With my son using a wheelchair, a van is pretty much essential in our lives. We got our first one about three years ago and it was life changing. It fit my three kids, Christian's wheels, luggage, and sometimes a smelly dog for good measure. There was no way we could or would ever go back.
Don't get me wrong. I do have SUV envy. And compact car envy. And black Ford Mustangs with the hot pink stripe down the middle envy. But that envy is fleeting. We'll be rocking a van for a good, long while. And we'll be rocking it happily.
Our van we currently have is approaching 140K miles. We're heading toward No Man's Land. Or maybe we're not. I know nothing about cars other than how to actually drive. And my husband would consider that debatable. The bottom line is that it's time. It's time to get a new minivan.
The prospect of getting a new minivan is both daunting and exciting. Where do we even start? I know Earnhardt Dodge Chrysler Jeep in Gilbert, Arizona has a Dodge branch and we are definitely going with a Dodge Grand Caravan again. I have no complaints about the one we drive now. I mean, other than the fact that it's old and starting to act its age.
But if I could have my way, I'd choose a black one. It's the closest I'll get to a black Mustang with a hot pink stripe running down the middle.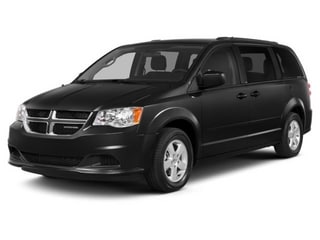 Pretty, right?
We'll have to modify the new minivan in a few years for Christian's wheelchair as he grows so this van will be an essential part of our family.
Minivans may not be cool to everyone else but they're cool to this mom. I'll just wear a lot of hot pink, which already happens, to make up for the missing stripe.
This post contains sponsored links.