Tuesday Topics
Three Pieces of Jewelry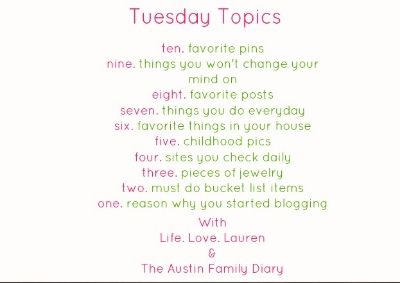 Linking up for Tuesday Topics again!
THREE Pieces of Jewelry.
I love jewelry and I love meaningful jewelry even more.
I can't pick only three!
You've already seen my current favorite necklace from Whole Soul Jewelry. So I won't count that this time. Just know, it's one of my favorites.
Wedding Rings
I wear them every day.
When we got married, with all the planning we kind of forgot to buy bands. So we literally purchased wedding bands the night before and day of the wedding! I actually love my band a little more than the engagement ring. But I love them both because they're sparkly even when they're dirty. Like right now.
I got this necklace on a retreat I went on last year full of a bunch of really strong, tough, and very special moms. We went to a fall festival and we found Tiffany at Whimsical Details. Tiffany makes the cutest bubble and charm necklaces. I chose "Fly" to represent a whole bunch of stuff that deserves another blog post. The charm is a heart with wings for my "tribe."
I begged my Gramma for this ring forever! It's her birth stone - sapphire. It was my something borrowed and something blue.
Remember those awesome (not really) best friend necklaces from the 80s and 90s. Well, while searching on Pinterest, I came across these "Best Friends" necklaces. I loved them! No, I don't have a thing for whales and neither does my bestie. But the whales seemed so random is was perfect! I gave the "Best" part to my BFF for her birthday last year and I kept "Friends." Because I like presents to be self serving. I got the necklaces here.