TUESDAY TOPICS:
"Nine things I won't change my mind on."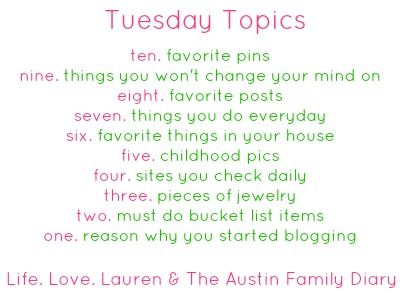 Nine things I won't change my mind about. Hmmm. I think I'm pretty diplomatic and I can see things from both sides of the isle so this topic was a challenge. (I'm sure I could also give you twenty-five people that would disagree with what I just said.)
1. Avocados are amazing. I love them in pretty much any way, shape, or form. I don't trust anyone that doesn't like an avocado. Unless they're allergic. They get a pass.
2. Half pieces of gum. Whole pieces gross me out. Too much globbiness. Too much flavor. Just gross. I only have half pieces and if you try and make me have a whole piece I might vomit. I feel queasy thinking about it.
3. Gangnam Style. He's really saying "open condom style" and I won't change my mind about that.
4. You can have it all, just not all at the same time. Oprah said this so it has to be true. But seriously, I've been a working mom. I've been a stay at home mom. It's extremely difficult to have a full on career and be home for the kids. I'm only speaking from my experience and watching so many women struggle with the decision to have children and be present versus aspiring for lofty career goals. Women may be able to come close but not without sacrificing on one end or the other. Something has to give.
5. Real Housewives of New Jersey is the best season of all Housewives. Two words: "Prostitution whoa!"
6. Internet trolls are the devil. Glass houses, bitches. Glass houses.
7. God exists. No matter what you believe or how you believe, there is a being greater than all of us. I happen to believe He goes by the name God.
8. Bearing arms. I was trying not to get too controversial with these, because, believe me, I really could throw down arguments for my most basic core beliefs, however, I really don't want the headache of a debate right now. But this one, this constitutional right, I whole heartedly believe in and I will not be convinced otherwise.
9. 50 Shades of Grey was a terrible book. Yes, I went there. And this might be my most controversial statement of the nine. 50 Shades was a lot of things, but "good" was not one of them. There, I said it.
So the above nine things are non-negotiable for me. Probably. I tried not to get too controversial, although I'll probably get hate mail for number 9.
What's non-negotiable for you?