TUESDAY TOPICS
Five Activities in My Hometown
Yay! It's Tuesday Topics time!
And the topic this week? Five activities in my home town.
That would be Tucson, Arizona.
Tucson is famous for its desert centered stuff and warm weather and I'm sure there are many touristy things I could list. But being a native, I'd like to list things to do in my hometown that I am proud of and that I actually like doing. Because this is all about me. Not my home town.
This selection is also seasonal. If you paid any attention at all in geography you know that Southern Arizona is basically living on the sun. So if you ask me what to do here in the summer, the answer is STAY INSIDE, for the love of God!
But most of the rest of the year is pretty amazing weather.
Tucson is a valley, surrounded by mountains. One of our little, climbable peaks is called Tumomoc Hill. If you don't mind a hike and a work out (although, it's hardly a hike with a small, paved road leading all the way to the top), Tumomoc Hill boasts the best aerial view of Tucson from edge to edge. And it's literally just west of our down town area.
And on the way down you get to spot little dudes likes.
The Ben's Bells organization
is an amazing organization that works to spread and promote kindness. And they're based right here in Tucson! How lucky are we? To read about my experience with Ben's Bells,
click here.
It started from something very painful and grew to be something very beautiful. The idea is that ceramic bells are dispersed through the city, in parks, on the side of the road. And if you find one, you get to keep it. There is always a note that reminds you to spread kindness. Best of all...there are two studios in town where anybody can go in and help paint the bells. I've done it a few times and I've also helped hang them throughout my side of town.
See for yourself! They made national news.
Okay, yes, this is a shopping mall center. But their location is beautiful and it's perched at the top of the city. So if you come to Tucson, you can have dinner at fabulous restaurants while overlooking the city at sunset. La Encantada also holds a lot of events in their court yard including salsa cook offs, tequila tasting, and in the winter they bring in snow for the kids! It doesn't snow here in case you didn't know.
I feel partially obligated to mention Old Tucson because it's definitely a go-to place for tourists and because I spent a lot of time there as a kid. It was actually used as a movie studio for westerns long ago and has a lot of history. Unfortunately, most of the original structure burnt down and the rebuild isn't quite the same. But it's still fun! You can still see a good gunfight, listen to some saloon girls singing their hearts out, and mine for gold. Yeehaw!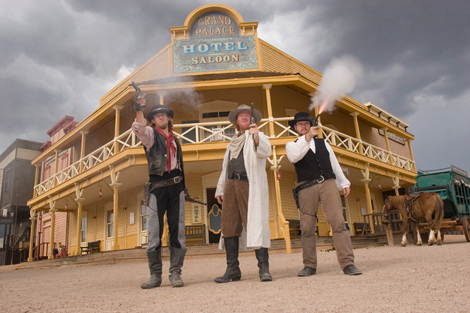 If you find yourself in Tucson around Halloween and the beginning of November, go experience the All Souls Procession! You will not regret it. It's basically a Day of the Dead parade and everyone dresses up in skeleton costumes. We go as a family and dress in skeleton face. It is so much fun!
These are just some of the things to do in Tucson. There is plenty more with honorable mentions going to U of A campus, Main Gate Square, Sabino Canyon, A Mountain, The Rodeo, Reid Park Zoo, Aguas Calientes, Trail Dust Town, and the air show at Davis Monthan.
I do love my hot, little town on the sun.
What do you do for fun in your neck of the woods?