TUESDAY TOPICS
Six Memories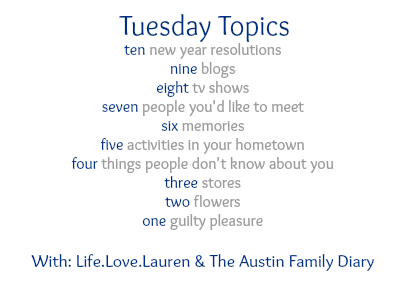 Today I'm linking up with
Lauren
and
Tiffany
for Tuesday Topics.
I first jumped into this blog hop two Tuesdays ago and it was a lot of fun! It really made me think about things other than potty training and sneaking a few M&M's just one more time!
I didn't participate last week because the subject was to choose seven people I'd like to meet. I was about to jump in and then realized - I got nothin'! I didn't know who I wanted to meet. Um...the inventor of Sour Patch Kids because they're yummy? Mark Wahlberg because he's hot? Hi, Brain? Could you NOT be so shallow, please? Gawd!
But here we are at the end of Tuesday and I've had all day to think about six memories that stand out in my brain enough to put it on paper...or blogger, I mean.
Now, the criteria doesn't specify whether they should be good or bad memories but I'd like to focus on the good. We have plenty of not so good to go around and with time, all that not so good falls away and we're left talking about the good memories. So here I go.
Ice Skating
I was OBSESSED with figure skating when I was little. And this poor, little Southern Arizona girl had no where to go except for the living room carpet with my wannabe figure skating moves. We had no ice skating rink in our city. But I knew I was destined to be a figure skater so I practiced my moves on that living room carpet every Saturday morning.
A few times a year my mom would drive us up to Phoenix where they had not one, but TWO skating rinks. We would go just to skate and it was the funnest. Somehow my twirls and flips looked a tiny bit different on real ice than on my living room carpet. I was a legend in my own mind.
Hawaii
I lived in Hawaii and went to high school there for almost three years. I lived with my dad and it was just him and I. Of course, it's Hawaii, so there is a ton of stuff to do there. But one of my best memories is all the time I got to spend with my dad. As a teenage girl, it was much needed quality time.
One memory, in particular, is when he let me stay home from school (don't tell!) on a really rainy day and we went wave watching. At that time of year there were huge waves (25 footers!) at the North Shore so we went to track them down. North Shore didn't disappoint. They were the biggest waves I had ever seen.
The North Shore is also where I swam with a sea turtle, which started my love affair with the animal. My daughter is named after one!
Wedding Day
I've discussed weddings with friends and family many times. The common theme is always what went wrong, what went right, in laws, and all the details. I planned every single detail myself. And for all of the little things that were NOT the way I planned, I remember walking into the reception area, hearing Al Greene over the speakers as the sun was setting outside and feeling like it was just perfect.
Oh, yeah, and I married my best friend and stuff.
Thanksgiving at Knottsberry Farm
Four years ago, we decided to leave town for Thanksgiving. Being a kind of stickler for tradition, I could not believe we were going to be away from family on a holiday. I mean, I was sure it was not allowed in the Bible or something. But we headed out of town anyway, the rule breakers that we are. We spent Thanksgiving morning eating pumpkin pancakes at IHOP. We went around the table saying what we were thankful for and we headed off for Knottsberry Farm for the whole day. It was the funnest Thanksgiving ever. Breaking tradition can be kind of really awesome.
Mexico Trips
Mexico is a big part of our family. Not only is it part of my husband's family, but it's about an hour south of us. Since we met, we've been visiting Rocky Point, Mexico almost every year. We've gone with family, we brought our babies, and spent lazy days with friends on those same beaches. It's a little piece of paradise for us full of dollar tacos, chili mangoes, and sand dollar beaches.
Anniversary Trips
We love to travel. Up until three years ago, we always travelled as a family, kids in tow. However, a few years ago we decided to take a trip with just Mommy and Daddy. We went to San Antonio for our five year anniversary ALONE (that means kidless). Last year we decided to do it again and left for Las Vegas. Again, sans our spawn. So now we've made it a tradition to take a trip for our anniversary. Even if it's just a little getaway just for us. Our 7th anniversary is coming up in April so watch out!