Look What I Can Do! - A Pinterest Post
Lasagna Soup
I love it for many reasons. Not only has it helped me unleash my inner Betty Crocker, but I have really expanded my horizons when it comes to cooking for my family. It used to be that if a recipe had more than like five ingredients, I would pass. But, no more!
I usually cook the dinner in this household. My husband is pretty much "the cook" here in that he concocts amazingness in the kitchen and this is known from miles around. I can hold my own, but before Pinterest, it was a hand full of recipes I just recycled over and over. Boring!
Then came Pinterest! And now I'm not afraid of making my own tomato sauce or homemade brownies or homemade frosting or homemade anything, really.
But you know what else I love? Probably more than Pinterest?
Italian food.
So it would only be natural that I would want to pin a recipe called Lasagna Soup! Especially with a picture reminiscent of French Onion Soup with an Italian stank on it.
It was a little intimidating at first. I mean, I had never actually constructed a soup before unless it involved a package, noodles, and a flavor dust of some sort. This recipe had ingredients and things to chop and simmer.
But I dove in. Because it was related to lasagna. And that was enough for me.
1 package of flavored noodles
Before I begin, this recipe is from
The Deen Bros.
, as in Paula Deen. She makes a lasagna soup and the Deen Bros. sought to lighten it up a little, calorie wise. I've made this soup now twice and this last time I made a few changes, which probably added some more calories back. If you want the low calorie version, visit The Deen Bros. website. But here goes mine.
*Recipe is from the Deen Bros. website. Items listed in

red

are my substitutions.
Ingredients:
2 tsp olive oil

(I used vegetable oil because I was out of olive oil.)
1 pound Italian turkey sausage, casings removed

(1 lb. of hot Italian ground sausage)
1 onion, chopped

(1/2 onion, chopped)
1 green bell pepper, chopped
3 cloves garlic minced

(No matter the recipe, I always add an extra clove of garlic. So I added 4.)
1 (32 oz) container of chicken broth
1 (15 oz) cans of tomato sauce
1 (14.5 oz) can of petite diced tomatoes
1/2 tsp salt
1/4 tsp crushed red pepper

(1/2 tsp crushed red pepper. I always add more because I love it in Italian food.)
4 ounces broken whole-wheat lasagna noodles

(about 4 lasagna noodles, uncooked, I used regular, not whole-wheat because they were quadruple the price)
1/2 c chopped fresh basil

(1 tsp Italian seasoning. I didn't have any basil.)
3 tablespoons grated Parmesan cheese
1/2 c reduced-fat shredded mozzarella cheese
8 Whole-wheat bread sticks or grissini (optional)

(I used Texas Toast because that's what I had in the freezer.)
Heat the oil in a large pot. Add sausage, onion, garlic, and green pepper. And, just like I mentioned above, I always add one or two more cloves of garlic than what is suggested. Just because it tastes so good.
Cook until sausage is browned.
Add broth, tomato sauce, diced tomatoes, salt, and crushed red pepper. I always add more crushed pepper because I love Italian food with extra red pepper.
Bring to a boil. Reduce heat and simmer for about twenty minutes.
Add dry, broken pieces of lasagna to soup.
Bring to a boil, reduce heat and simmer. Cook until lasagna noodles are tender.
Remove from heat. Stir in cheeses and basil (again, I used Italian seasoning, no basil in the house).
This is the part where you top the soup with a bread stick. I knew I had Texas Toast in the freezer so I decided to use that.
A harder bread would hold up better in this soup, though. And it would probably be less calories.
I also topped everything with more mozzarella. Because extra cheese is always a good idea.
This soup tastes similar to lasagna but it really is it's own thing. It goes really well with a Cesar salad and it's very filling. If you are sensitive to spices, ease up on the red pepper and try a mild or sweet sausage.
So this is the first soup I've actually constructed for realsies. And I give myself a great, big pat on the back because my husband is the soup nazi in this house (meaning he is bomb at soups) and I got a passing grade!
It's easy, it's filling, and...mmmmm...cheeeeese.
Linking up!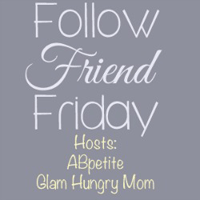 >